---
I'm not sure why they bother classifying yarn by weights, since it seems so completely random it's not even funny.  I've been using a lot of ombre/striped yarns and the variations in just one skein is pretty wild.  For example the Red Heart Unforgettable yarn is absolutely beautiful, but it's classified as a 4.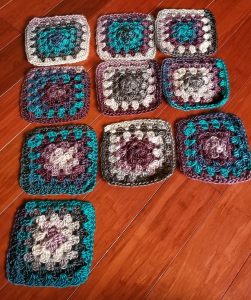 I'd guess that maybe 1% of that skein was actually a "4", it was more like a 2 and almost like working with a heavy thread.  It also felt like a roving yarn and tangled easily within itself.  I was lucky I didn't have to frog any of it because I think it would have snared together horribly.
The Sweet Roll ombre was a little better, but probably 30% of it went down to a 2, then back up to 4, all over the project.
I ran into the same problem with my flower squares.  Both the red and the yellow/pink are both "4" weights.  But the red is visibly larger.  It's rather frustrating.