---
Originally when I started getting hard core into crochet again, I had some ideas of making things game-themed.  The first rather time consuming project was the scarf for Mistwidget.  I picked the yarn in a sage color for his mistweaver, and picked the broomstitch lace pattern because it reminded me of the monk icons and their twirly healing spells.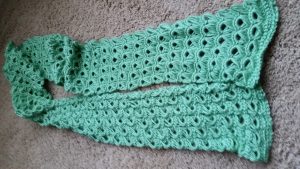 I thought perhaps I could run with a theme like that. Like, make items that are unique to a class but subtly so, where people could wear it and it wouldn't scream 'omg dork!'.  Broomstick lace for monks, a sharp wave stitch for rogues, perhaps Tunisian lace fan for priests, etc. Buuuut, would that association really help and, could I get in trouble because I don't work for or own Blizzards stuff?
Not sure how that would work out.  Randomly ran into this little event however, which is to cloth the orc in front of Blizzards headquarters with knitting or crochet squares.
It had to be in grey and blue, for some reason, and I thought about it for a while but went with the flower stitch I've done before.  It ends up looking 3d and I did it in grey because it's slightly reminded me of an Iron Star.