---
I can safely say I really, really like the 'virus' pattern not only because it's pretty, but because I don't have to make sure I don't screw up the edges.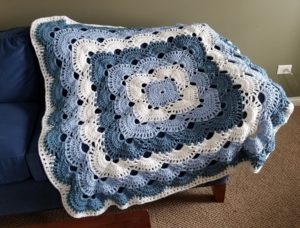 Speaking of edges, I found a very decent edge pattern for the virus blanket but as per usual I had to make slight modifications. The pattern I found called for Triple crochet, double crochet, half double crochet, and single crochet stitches.  I did this on the pink and yellow blanket, but then the edges turned up a bit.  The person who did the stitch was just like 'oh well it does that'.
Yes but do you know WHY it does that?  It's because your final stitches on the blanket is a DC+1 and your border has no +1, that's why. So I started with a stitch +1 on every stitch and that looked weird in the middle where we DON'T +1 in between the arches.
I fixed that by doing a +1 on the SC, the HDC, the DC, but not between the DC, the triple, and the next DC.  That make it lay flat and nice. I really liked the colors I did on this one but I wish I had thought about it a little more before I started.  It should go white, light blue, dark blue, repeat, but I started with the light, then white, then decided to do the pattern.  It's not a big deal really but, I noticed it when I was almost done.