---
I have a lot of odds and ends of yarn after making so many bigger projects like cocoon sweaters and blankets, I wasn't sure what to do with it.  I could do a scarf or a hat but scarves are going to be out of season soon and broomstick lace takes absolutely forever anyway.
I started looking up crochet bags and with a few attempts figured out a method to make them in a few ways.  This one was using a V stitch for most of it: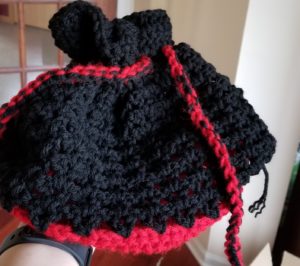 And this one is basic single crochet for the bottom and double for the sides.  It was a little slow because the pink yarn with the sparkles in it is touchy but I think it came out well.  I just can't decide to do with the drawstring ends.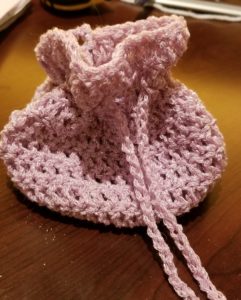 One person used pom-poms but those take A TON of yarn for no real good reason so I may just look for puff-balls to sew the ends through.