---
I decided to make myself a version of the coat I made my mom, but with a number of changes.
First, I will not be using flimsy Red heart Unforgettable for the squares, I am using Lion Brand Landscapes.  It's much more sturdy and uniform in size.
I will still be using Caron Simply Soft for the main portions such as on this sleeve: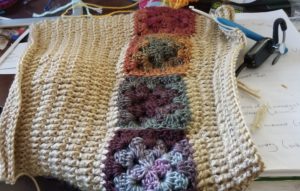 but I will be using double skeins on the inner border OR possibly a ribbed border.  The stitch on the sleeves and sizes is a layered front post double crochet which makes the 'fabric' feel very thick.  It didn't make much sense to use such a thick stitch on the arms and sides and then use a simple thin double crochet on the insides and around the hood.  So I am either just going to do the double crochet part with two skeins to thicken it up OR make a ribbed border.  The reason why I'm not just going to repeat the front post crochet is because it makes the material curl up, and unless you are sewing it down, like we're going to do on the sleeves and sides, you'll end up with curly insides.  Making it ribbed alternates so it lays flat.  More than likely just doubling up the yard though because I will be sick of front posts by then.