---
I bought my first pattern the other day from Crafty Intentions, the pegasus pony which also had steps for the horn.  I thought it would be good to learn some new techniques and I did! It came out really nice too.  Well ok, my first one was slightly wonky but I mostly fixed it: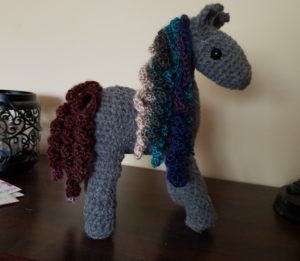 I had created one leg too long (counted wrong) and I didn't attach the head correctly.  I assume it was stitch to stitch but you put the head IN the neck quite a ways and then stitch it down. I love the wings though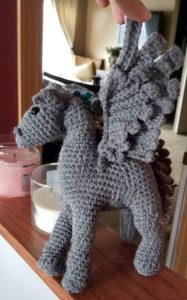 Then I went on to make a unicorn version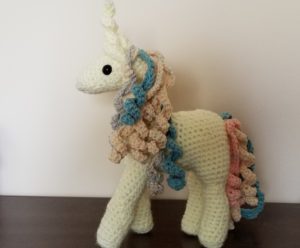 I did test out a fail version where I just made the leg X amount of stitches up the whole way but, my stitch count got wonky in the body so I gave up on doing that. This doesn't work in a round so you really, really have to watch the stitch count.  It's nice to make something that takes a day or two and not weeks though.
Plus one of my kids said he liked it, completely randomly, like my oldest did with the alpaca so, I think we have a winner!