---
I don't really understand why I have such miserable luck with clothing crochet patterns. I found a really cute poncho pattern that required two pieces sewn together.  I picked the S/M size and I kept saying to myself, 'you should do a muslin first' .  I felt like it would be way too small, and when chaining the recommended chains (65) I said to myself, hey now, I chain 65 for a HAT, that's not big enough for a poncho.
So, I took out a tape measure and measured out the S/M in inches instead.  That was 92 chains instead of 65.  But guess what?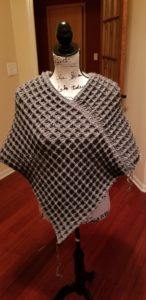 This barely comes down to my elbows on the sides.  I should have known better.    I put it on my 12 year old and it was a little small even for him.  Sigh.  I knew I should have listened to my uh, maths?    I would have needed to have extended each piece by about a foot in height and length!
I am going to try to salvage this by putting a  border around the whole thing but I just really don't get how it would have worked.  It also called for a DC border around the neck (it's small enough as it is).  I can add maybe 6 more inches as a border but any more would look silly.  Well, live and learn I suppose.  Add it to the pile of other inaccurate things until I made revisions like the mandala duster and sweater coat.