---
I actually made three of these so far but I haven't taken a photo of the rainbow one yet.  I really liked this pattern, and purchased it mostly because of the keyhole neckline to use in another projects.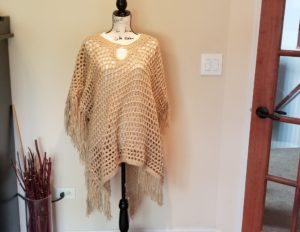 This was the lilac one almost finished but I'm keeping it so I didn't do final photos.  I wore this the other day in fact!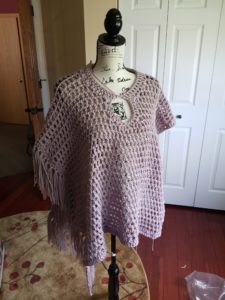 So cute!
Then I started working on a shirt version!  It came out a little small but that was my fault, I used a much smaller hook and slightly smaller yarn than the Caron One Pound.  It was from a bag of 'scraps' my sister got me last year so I was using what I had.  I believe it was off-white Caron Simply Soft but it had no labels.  I made calculations to keep the keyhole centered with the lesser initial chain count and decided on a shell border instead of fringe.  I do love fringe though.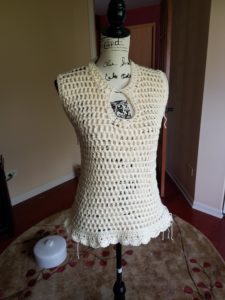 Just not sure what to do about the sleeves or leave it sleeveless.  May just do another row of DC and then a shell border around each arm.  We'll see how that looks.