---
I found the free pattern for the beaded crochet hat here https://www.5littlemonsters.com/2018/01/bead-stitch-crochet-hat.html and I've tried a few versions of it with different  yarns.  I can't seem to do the whole pattern and have room to do 2 repeats of the bead stitch, 3 rows of the knit stitch AND do a ribbed border.  I tried using Caron Cupcakes which is a 3 yarn and started with HDC's instead of the DC's at the top: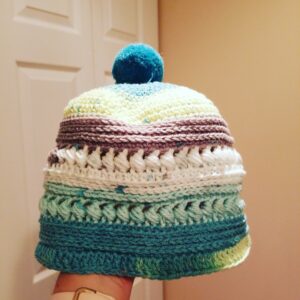 but I had to just do a regular DC at the bottom, otherwise the hat would have been way too long.
I also tried using a bulky wool blend yarn also using HDCs on the top: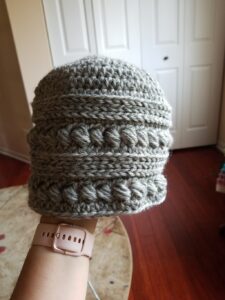 but couldn't do a third row at all.
Then I tried a black version in a super bulky yarn using SC's at the top and also made it to the second row of beaded stitches, couldn't possibly do a third row of knit, plus a ribbed border.  I don't get it.  Either this hat comes out way waaaaaaaay too long or someone is using a sock yarn, or something?
Cute pattern though.  I will also note that no matter what yarn  you use, 3, 4, 5 or 6, the beaded stitches WILL have gaps in them.