---
Oh my gosh I love this pattern.  I've made 3 hats so far and here's my findings.
With a bulky yarn (6) like Caron Tea Cakes or Lion Brand Wool-ease, you don't need to double strand.  Also, the child size is perfect for my head using yarn like this.  This was the first attempt which initially came out WAY WAY too big.  I frogged half of it and went down a hook size (8 to 6).  It was still a little loose but still wearable.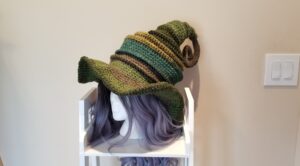 Then I tried another with the wool ease I had and some Lion brand Landscapes woven in at the hat band and top.  I like this one A LOT.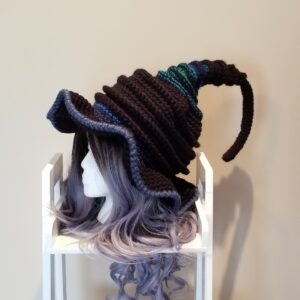 I love am in love with the reverse sc stitch for the border.  I originally learned it on the child car seat cloak but it REALLY comes out nice on the hats. I used some dusty blue scrap I had for the border.
I also tried the green hat again,  which was done in a frogged blanket of Caron Cakes Green Tea yarn in the child version.  It fits PERFECT.  I really think for most heads the child version is just fine for 5 or 6 weight yarns.  I would probably only do adult if I was using a skinnier double-strand 4 like Caron Simply Soft.
Though i wouldn't advise using a slick  yarn on this
Pretty quick to work up but hard on the hands to do all the backpost SC's in the 2nd row.