---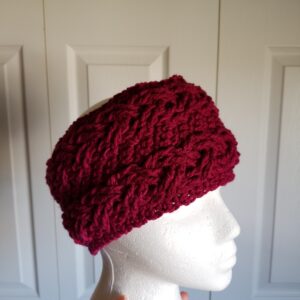 I really love cables and I've only really ever seen them as knit.  Well I decided to sit down and learn them from this Annoo Crochet video.  It was for a pillow but I quickly figured out how to do it for 1 or 2 cables.  I had to watch the entire video twice and back up to several spots over and over, and I finally got it. You're basically crossing over the space of 6 to make the cables. Thanks so much to this channel to get me started!
That being said!  It's… really  not that hard.  It's basically the starter section then 3 rows that repeat.  That's IT!!  Here are steps I wrote for myself.
In this example each cable takes up 6 spaces with 2 on either side.  So if you want to do 1 cable it would be 2+6+2=8  or 2 cables would be 2+6+2+6+2= 18 and so on.  Now you can do as many as you want.
For my pictured ear warmer, which I wore outside today and it worked very well, I did the following.  Trust me, it's pretty easy when you aren't watching 30 mins of steps!
Chain 18+1, turn, SC 18.  Or foundation SC 18, chain 1, turn.
2 SC, 6 DC, 2 SC, 6 DC, 2 SC . Repeat as needed. Chain 1, turn.
1 SC in each of the first 2.  Now we're at the 6 DC's.  Front post Triple in 3rd and 4th DC's. Then work a front post triple in the 1st and 2nd DC only BEHIND the triples you just made.  Then do two front post DCs into the 5th and 6th DCs.  (This is a RIGHT leaning section).  1 SC in each of the next 2.  Repeat front post section for as many  DC's as you started with.  End each one with the 2 sc's, chain 1, turn.
SC all across. Chain 1, turn
1 SC in each of the first 2. Now we're working on top of the 6 front posts we did before.  There will be a right, left, and a middle.  Front post DC in each of the first two triples from the 3rd row. Front post triple into the 5th and 6th front post DCs.  Then working IN FRONT of the triples you just did, front post triple into the middle two front posts from below. (this is a LEFT leaning section)  SC in the next two, repeat as needed. End with 2 SC. chain 1, turn.
Then just repeat the right and left sections with the SC's in between.  So we went right, then left, then right, then left.
I have my eye on a blanket pattern that has several kinds of cables I'd like to learn.  I'm a little wary of patterns not making the best of sense and this isn't someone I've bought from before, so I'm going to try to check into their youtube examples first.