---
I decided to do some holiday shopping on Etsy but I honestly was curious how other shops would do, as far as shipping and presentation.  I've been wrapping my items in white paper with a thank you sticker but that gets hard when it's a big item like a cocoon sweater and the sheep/alpaca are too big to fold one of the sheets around them.  I would love to find a gift box that would fit perfect without spending like 12 dollars per box.
That being said, I made 3 Etsy purchases recently. The first one was some rainbow stones I thought would be good for a kid to decorate a garden bed or something.  They were shipped in a small poly mailer, wrapped in tissue paper.  Not like a padded envelope, but a poly mailer with bubble wrap. The items were tightly packed into the package and when I took them out it looked like this: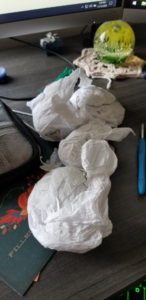 Is that a good impression?  It looks like I just pulled wads of toilet paper out of the bag.  Did the items get to me safe? Yeah but, presentation was a zero. They wrote on the packing slip that they gave me an extra stone, so that was nice.
The second thing was from a shop that sells candles, soaps, lotions, things like that.  I ordered on the 23rd and so far, it hasn't shipped.  I'll have to come back to that when I get it.
The third item was a drop spindle, which shipped super quick (came from one state away), was in a proper box, also used white paper like I do to wrap it, had a packing slip, and a sample of fiber with a little business card. Perfectly nice.
I cannot wait for the second shops items, I bought two different sizes of gift bags and a candle.  It should be here in 3-7 days but as I said, so far a week later it hasn't shipped so we'll see.