---
Ok I am trying this coat again .  I've talked about it before but I'm going to again. First off, it's the best grannie square coat I've seen.  The general layout is far and away better than a coat full of grannie squares which to me are just way too danged busy.
That being said, couple of things.
Don't use Red Heart Unforgettable.  It literally tears apart with any strain, especially against the heavy stitches that make the cool texture on the sides of the coat and arms. I personally wouldn't use that yarn for anything but a scarf and even then, treat it like spidersilk.
The layered front post DC stitches drew me to this coat originally but you have to understand how thick it makes the 'fabric'.  Layer after layer of front post DCs on top of each other make it thick and it ends up curling in on itself.  That's not a big deal because you sew the ends together, but then your inner border now, should really ALSO be just as thick and it won't be. The stitches we use on a project should be standardized across a garment, imo.
The little triangle panel ends up being stiff and then the coat lays weird. I chose to just keep a side-slit.
If you do 7 squares in the front and back, the back of your coat ends up shorter than your front because your body isn't a sheet of paper, you need room for your shoulders.
Basic granny squares suck, find something cooler.
Fixes:
Just don't use it.  Use Lion Brand Landscapes or something like Premier Colorfusion Chunky, Autumn Sky has very similar colors to the coat in the pattern. That's what I'm using.  It's not even really chunky.
I think I will just do HDCs.  The layered front post DC's look super cool but yeah.  Just doesn't match anything else about the coat.
I chose to just keep a side-slit.
Not sure yet, maybe it'll be ok.  I was thinking of doing 15 squares, 7 front 1, shoulder, 7 back, but then it messes up the back count. Maybe?  The hood/border might be able to take the difference off. I might try that.  I'll have to draw it out or something.
I'm doing the sunflower grannie square.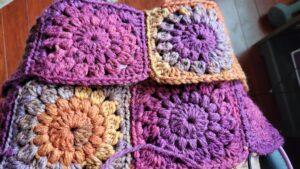 Progress so far