---
Another in the Caron Jumbo Ombre.  This color is just to die for, it's actually called Sepia but it's a lovely muted pink type of color.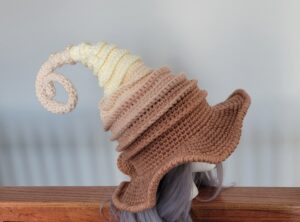 This would be glorious for any number of other projects, especially if your stitch count was the same like for a scarf or sweater.
If you look closely though, this one went from light pink, to white, to light pink, then faded to the darkest color.  Just like with the blue one, it is not possible with this yarn to go from lightest to darkest in one go.  Red Heart Ombre can do it if you plan well though.  The colors in this yarn duplicates about 3 times through the whole skein, whereas red heard is about twice. In my experience anyway.