---
I finally decided to try a different color of the Caron Jumbo Ombre: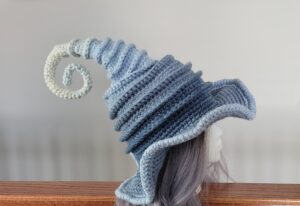 It really got me thinking about making an all white one and then dip-dying it.  It's difficult to match the ombre up between two skeins and often I have to snip one skein, pull a bunch out, then retie it to match the other.  Also since the hat starts at 4 stitches and ends at 65, the fade can get lucky and go from light to dark but with this yarn, that was not possible.  I did it with Red Heart Ombre but you are still dependant on finding the absolute end of the lightest or darkest color to start with.  Then still cross your fingers.
Another solution would be to find a brand that has multiple colors in the same overall shade (Red Heart, I Love This Yarn! also possibly) and just manually do the fade.  I've said this in other projects but I do not like when rows 1-10 fade nicely but then 80+ start changing more frequently because the rounds are longer. The only yarn that did this nicely was Caron Tea Cakes and I can't even get those any more!