---
I had customized the witch hat pattern so it fit perfectly on most (female) heads. I've tried Red Heard Super Saver, Caron One Pound, Lion Wool Ease, Caron Simply Soft (too thin), I Love This Yarn.  As well as other brands I was given one way or another that had no labels or I don't recall.
Well, a client had noted that of the two hats they purchased, one felt smaller.  It was a Caron One Pound + RHSS combo, the mermaid hat, vs one that was a mix of older RHSS Ombre and an I Love This Yarn. I had commented that the same weight yarn (4), hook, stitch count, etc, had all been used.  I was using yarn I've used for almost 100 hats no problem.
Well, I purchased some RHSS the other day and it's clearly different.  It's softer for one thing, but seems to fuzz up just by handling it.  RHSS use to squeak on my hook because it was rather rough and now it doesn't.  I had to increase the width by 5 stitches but got so frustrated I pulled out a hat I made from the same yarn purchased over a year ago and look at the difference!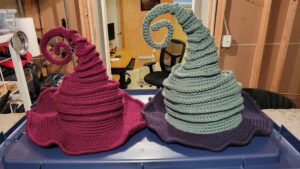 But CatchMe you say, maybe it's just the curl.  For that I reply: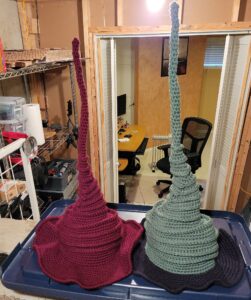 Huge difference.  I am not pleased.  I had the same problem with Lion Brand Wool-Ease.  I was using 60 stitches at the largest round, now it's so thin I had to increase to 65!  What is going on?