---
So get this, I had two colors of Red Heart Super Saver, Claret, which was the one that felt thinner and lighter, and Mulberry, which felt like normal.  Both had the same label, same weight, same yardage (supposedly)
I completed a hat in both colors.  With the Mulberry I had maybe 5 yards left.  The Claret I easily have 20 left.
I also weighed the two hats.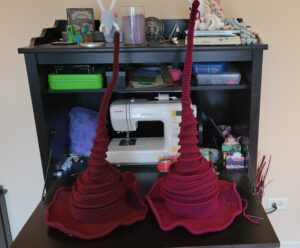 The thin Claret is on the left, the normal 'stiff' RHSS is on the right.  You can see the size difference, and it would have been even worse but I increased the max stitch count at the head area from 65 to 70 on the Claret, and added 3 extra rows to the brim.  And STILL had a pile of yarn left over.
Also, the hat on the right weighed 12.9 ounces and the hat on the left weighed…. 10.1.  Nearly 3 ounce difference.  I wrote to Yarnspirations asking them to explain the situation.  I really don't want to have to swatch on the same brand, same type of yarn, based on the COLOR or whatever else is going on.