---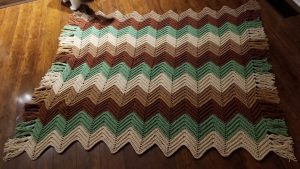 Finished the wave blanket, and pretty happy with how it came out.  I constantly had to adjust the stitches no matter how carefully I counted, but it still looks just fine. I plan on this being a xmas present and although I meant it to be a throw, it's practically twin blanket sized.  But hey, finally done!
---
---
It's amazing how many things you can make with just different sizes of squares with a few tweaks.  The cocoon sweater it just a big old granny square sewn up the sides and worn in a diamond shape.  Add borders to the edges/sleeves and blam, a cute cardigan/shrug.
Or, a smaller granny square sewn together at the sides, and a small thumb-hole reinforced for easy fingerless gloves.  I was able to get two gloves out of a single small thing of sparkly yarn for this.  I accidentaly made two right-sides so I'll have to make two lefts now.  But gosh, just that makes I can make a big square of anything and make at least a few usable things.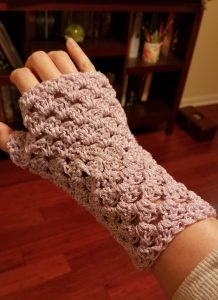 ---