---
My mom hung onto a lot of my grandmothers crochet items, but until recently all I got was 3 afghan hooks. I started cranking out items and she gave me a Home Twister yarn device that my grandmother had from many years ago.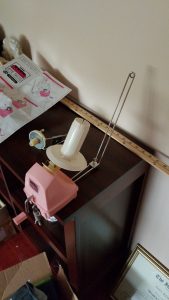 It can make yarn cakes, like so:
it also has the ability to twist two or more skeins of yarn into one.  I would really like to try that since super thick yarn can get very pricey and I've rather enjoyed crocheting holding two skeins at a time already.  Caron Super Soft for instance, feels rather thin by itself but two or more makes lovely smooth and heavy blankets or throws.
---