---
The Twisted Witch Hat pattern I purchased has been one of my favorites.  Using Lion Brand Wool-ease Thick and Quick is my favorite, especially the black yarn versions that have a color running through it like Toasted Almond: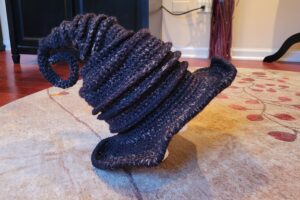 City Lights: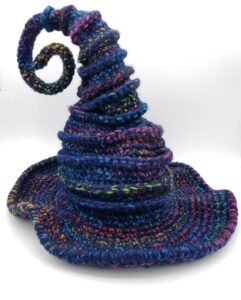 and Blackstone: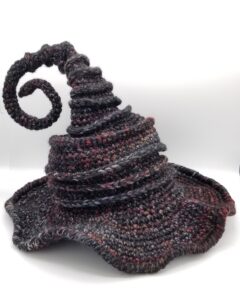 I even got creative with some random skeins I bought for other things and made a "Radagast the Brown" inspired tree/birdie hat: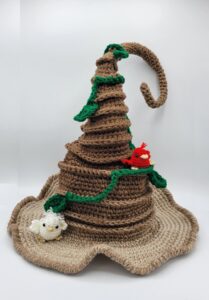 and a pumpkin hat!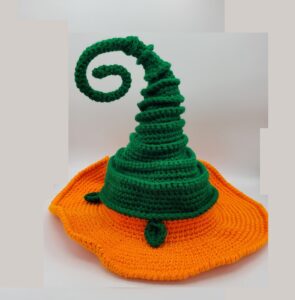 Doing all of these brought me to a few conclusions.  The child size with a super bulky or bulky yarn (5 or 6) comes out perfect.  With a double-skein yarn like with Red Heart Super Saver, the adult size is fine but I definitely drop off the last ridge row.  I think the child hat has 12 ridge rows and adult is fine at 11.
Also with the adult size, 70 is really just too big with the 5-6 yarns.  I tested this previously making winter hats and in my experience with a 5-6 yarn, a chain of 65 is perfect.  Not too snug.  The adult version of the twisted witch hat is 70 which makes it far too loose and if you add those last ridge rows, it means the hat will be falling into your eyes.  So if you keep the full kid version, 60 is snug enough that it will stay on the head at the right spot, OR if doing 65 or 70, definitely drop the last ridge row grouping and go right into the brim steps. Just my two cents.
---